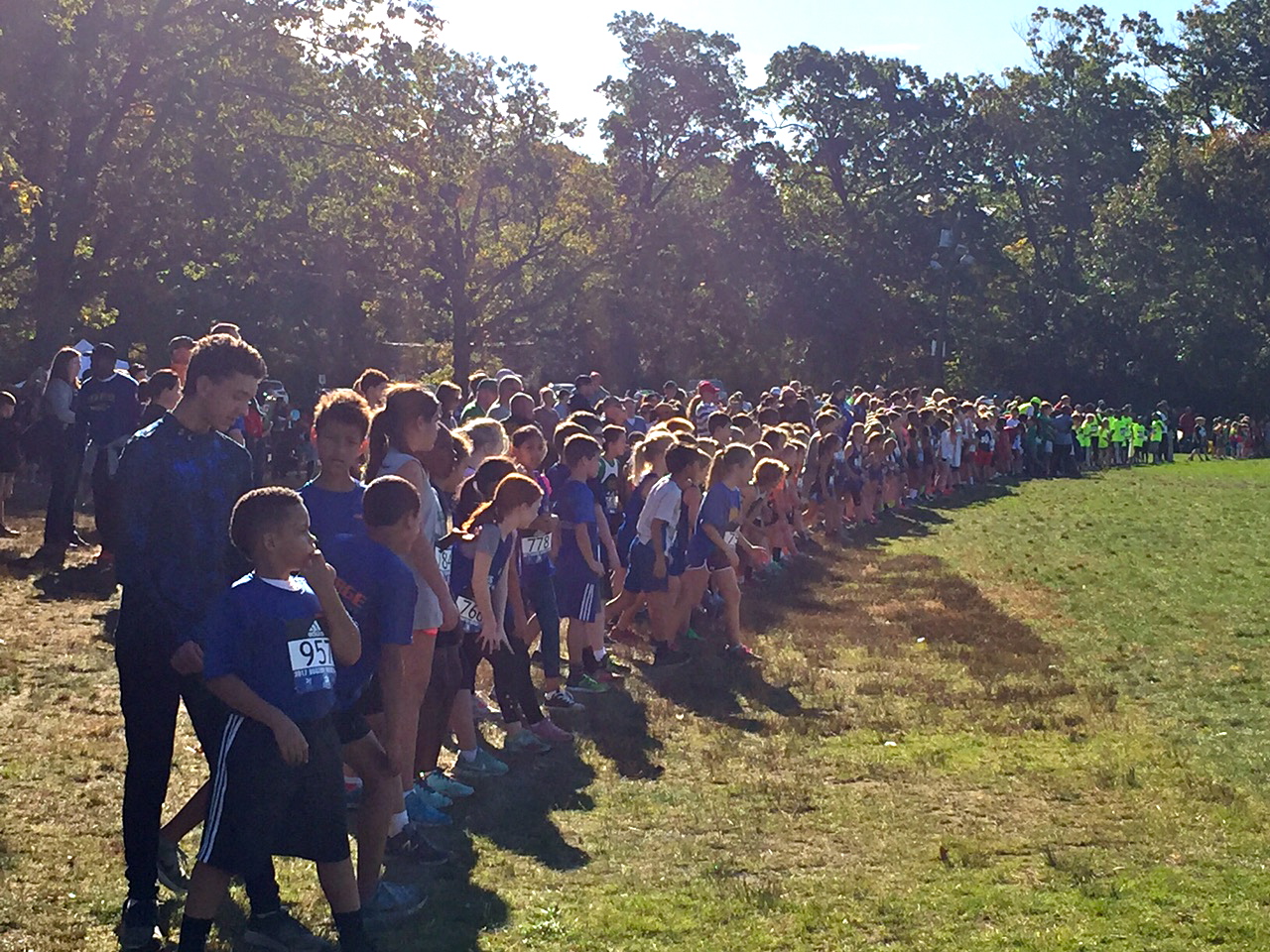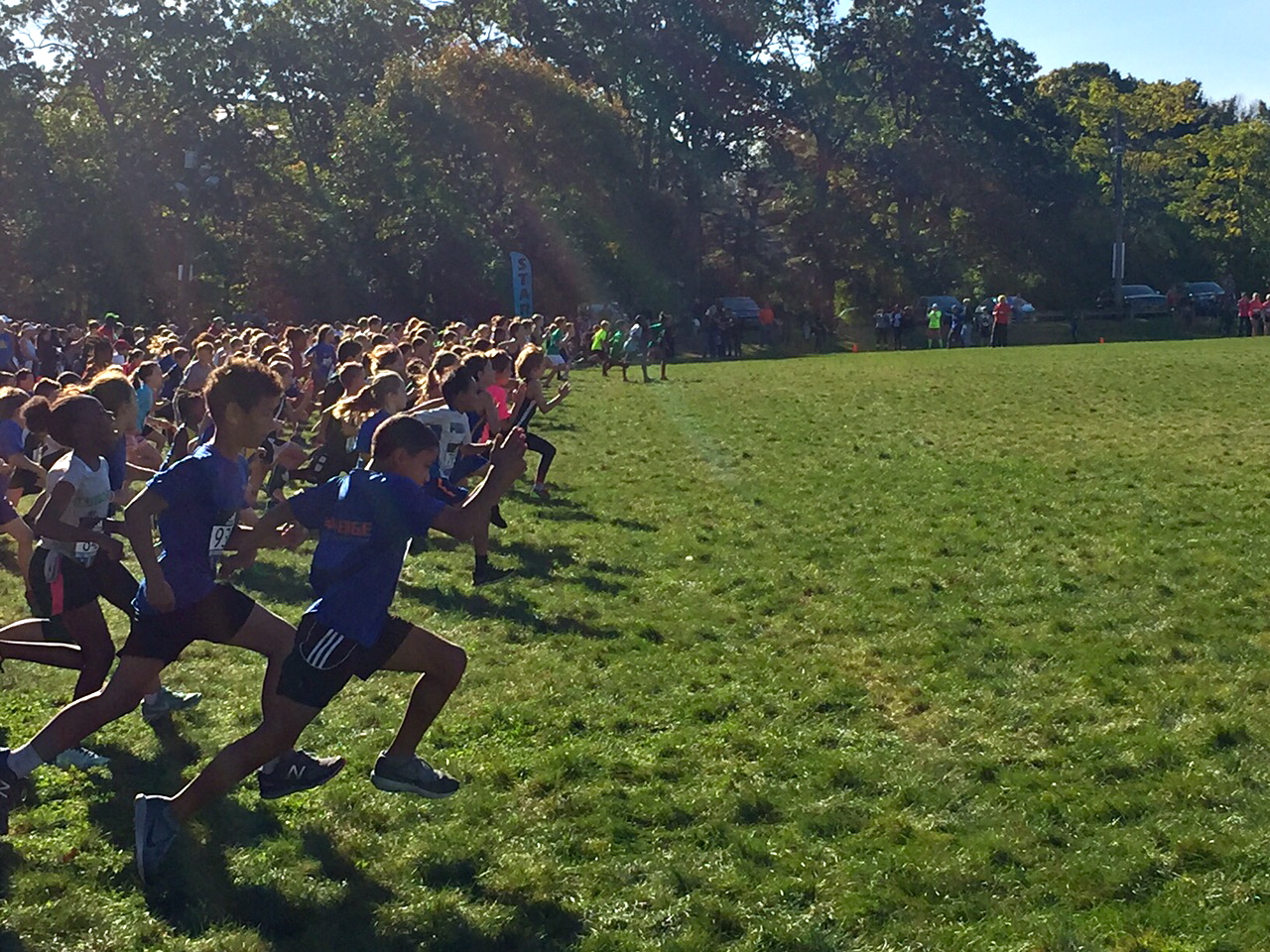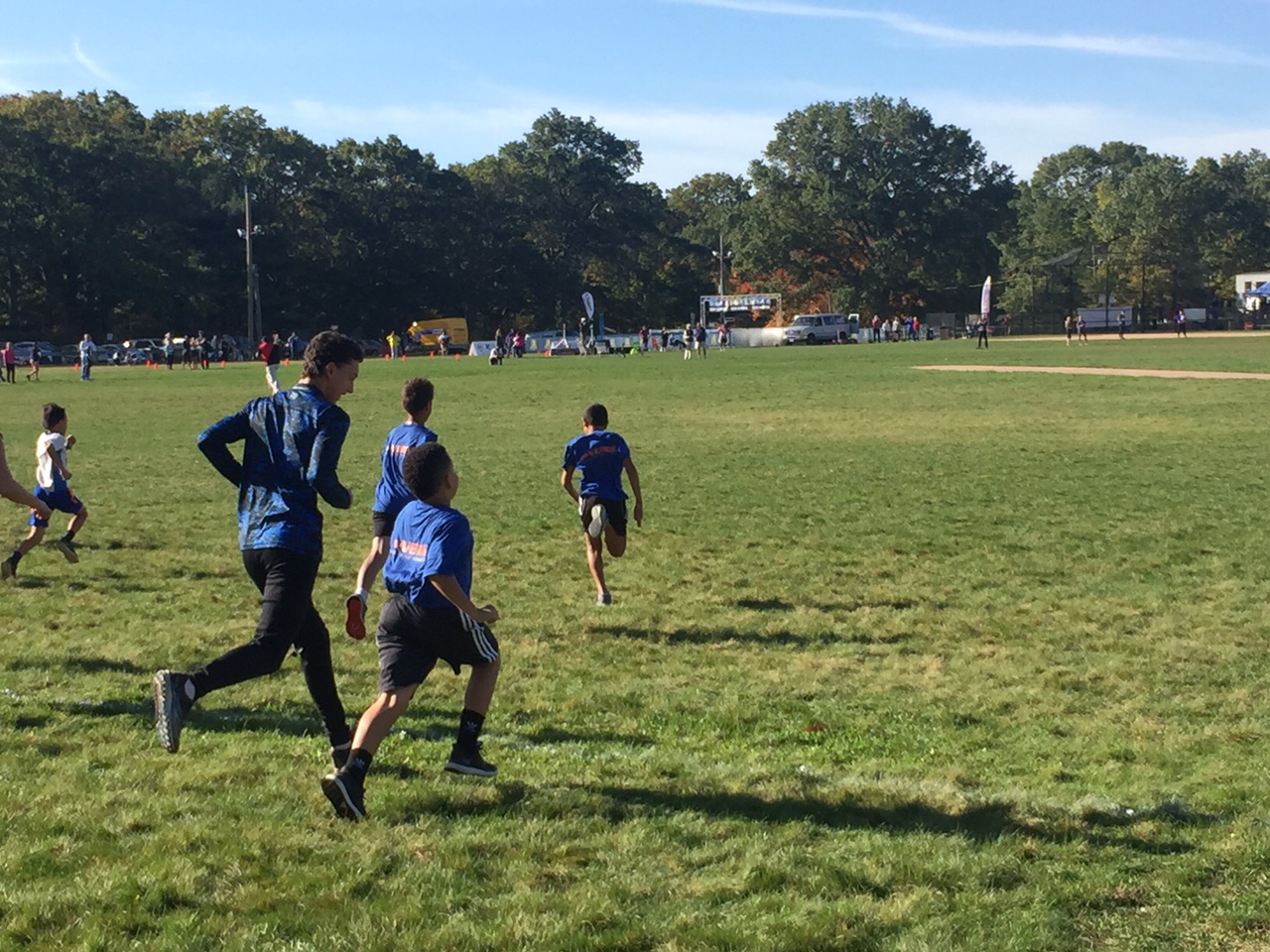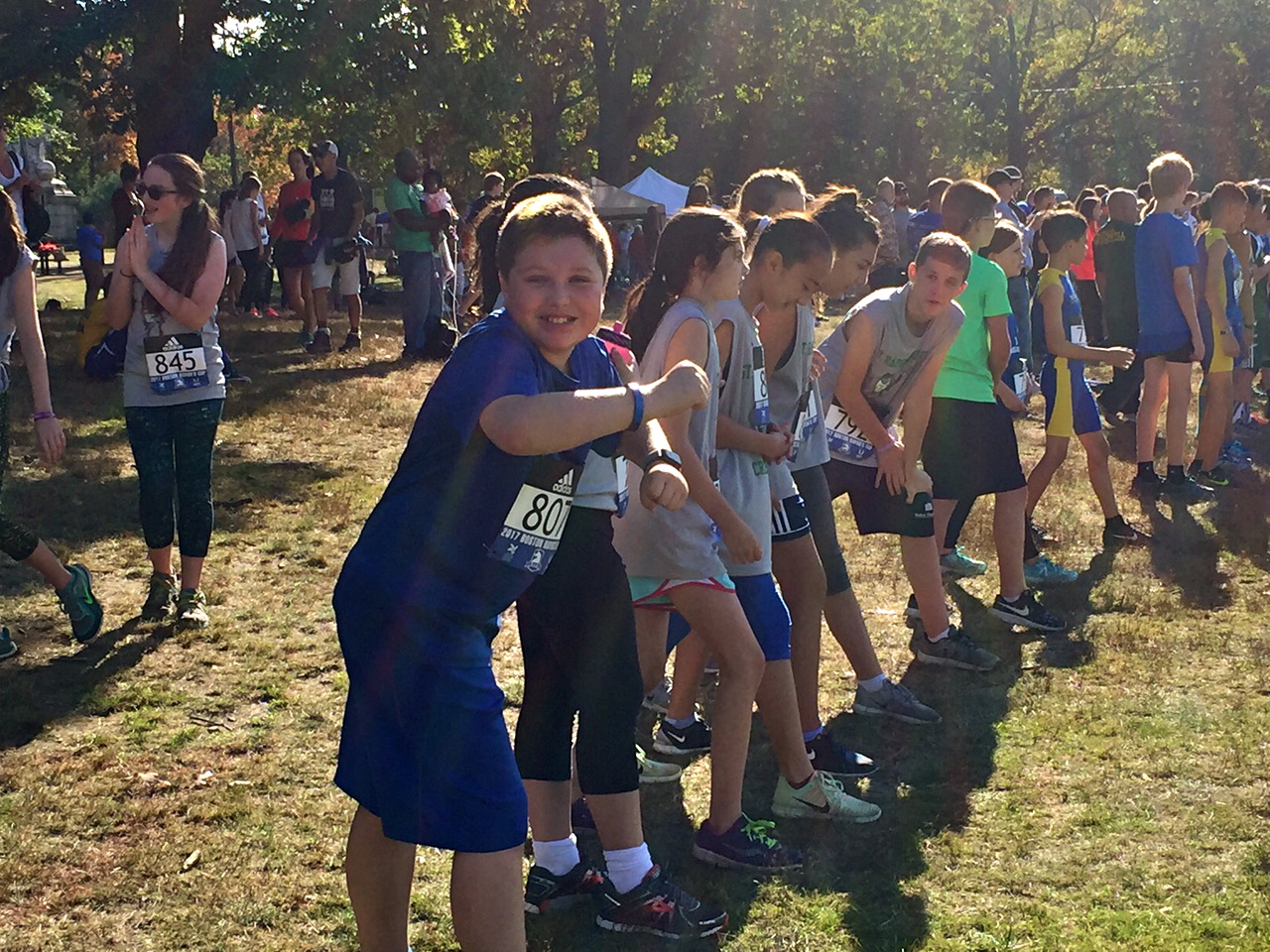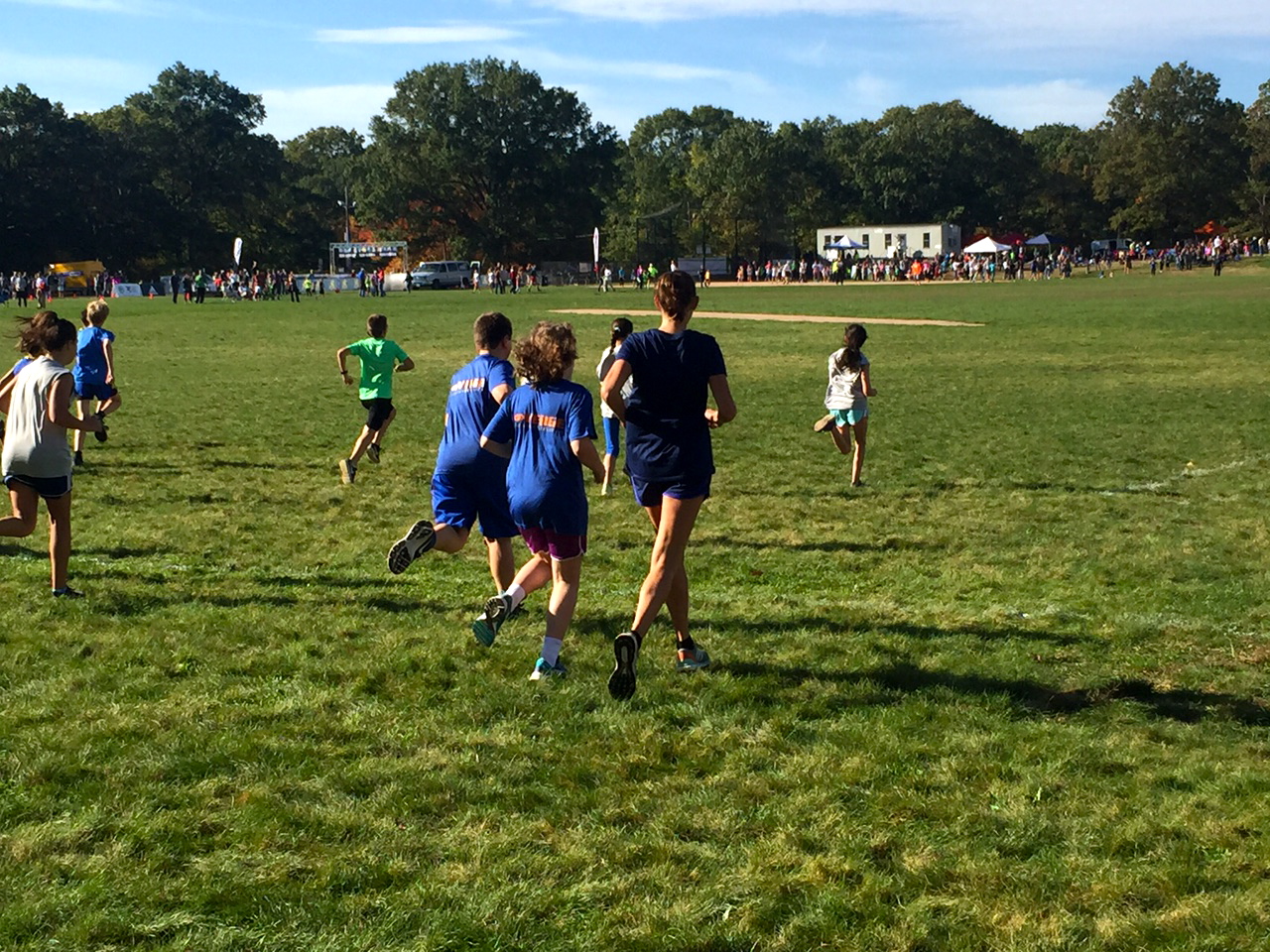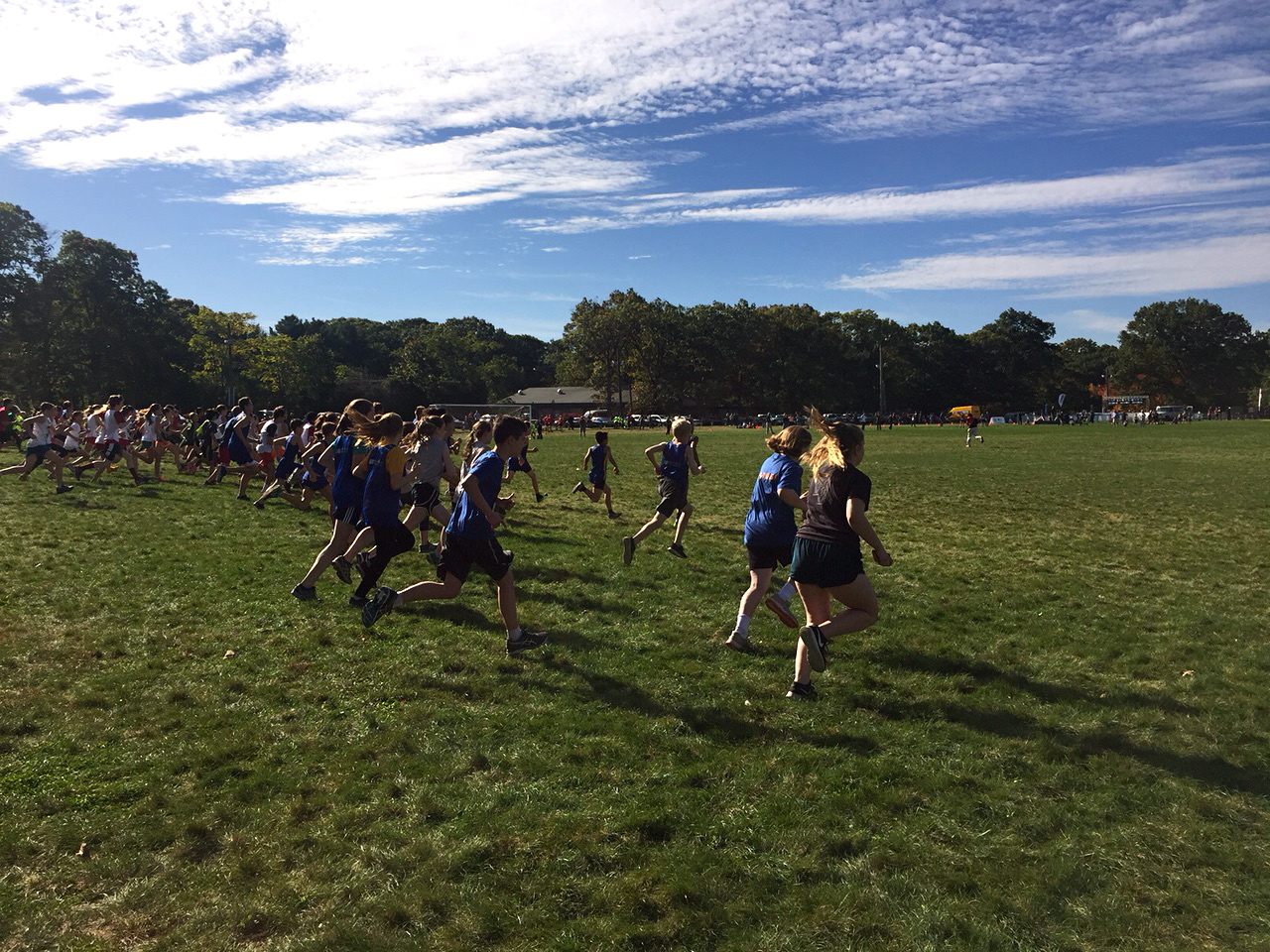 What a fun day! 8 kids on the team came out to run Sunday and we had quite a day. I can't express how proud I am of these kids. And the parents too. It's nerve wracking tossing your kid into something new. It was everyone's first cross country race, except for one kid. For some, it was their first race ever. It was great to have a group this year. It makes a big difference when you peers are there with you. They had a lot of fun together and the camaraderie kept nerves down and excitement up. Thanks to race director Steve Vaitones for the support and welcoming our team to the event. It is prime experience for our kids as they develop.
3 kids ran the 6-10 year old 1.1 mile race; 2 ran the 11/12 year old 1.1 mile race; 2 ran the 13/14 year old race; and 1 kid ran the 5K. Our athlete turned volunteer (he now runs with Lexington HS) also jumped into the 5K after running as a guide in one of the kids' races.
We all gathered, then went out for our preview walk of the course at 9:15, then our warm up drills. Kids races started at 10, 10:15, and 10:30. The 5K started at noon.
As always, Matt and I had a blast scurrying around the course from point to point to cheer them on.
We had two PR's set today! One by Mayor's Cup 3rd year veteran, 9 year old Jaden who shaved another 59 seconds off his time, finishing in 8:54! You could see the determination and confidence developed with experience in how he was running. It took 2 previous races for him to get to this point. His goal for next time will be pace control at the start and remembering that the shortest distance between two points is a straight line. ;)
The other was a 5K PR by David who finished 19 minutes faster than any of his previous 5K's, finishing in 30:32! He's come a long way since his first few 5K's with me in the past 2 years of pulling him down the road the whole way, or doing side shuffles and skips and finding fun ways for him to mimic me that would move us forward. Sunday he ran the whole thing, and I did little more than guide him through the course! He was challenged though as I noticed in practice last week that every time he got tired he move to running right behind me. I assume it's to take the mental work out of it by almost being towed along by someone else's momentum. During the race when he got tired, he moved behind me. He wouldn't move back next to me with verbal instruction so I told him it's his race, he has to run next to me, and I would have to stop to get him back into position. It would confuse him for a minute and take a second for him to regroup and start up again next to me. We lost some time with this game, but he ran his own race! He's really become quite a runner, thanks much to mom taking him to the trails to let him run.
Two of the kids were sent out there on there own without guides with a goal of staying focused, navigating, and completing the course on their own. They did it!
Another goal for one kid was to find his pace, as he's been practicing, and push himself a little, be comfortable with being uncomfortable, and to let go of worries and over-thinking. He ran a really strong first race, and even overcame a fall early on at the bottleneck turn with the masses. It's racing...it happens. Fantastic job out there!
Goal for others was to complete the course with their best effort. One did fantastic, and plugged away with her guide for a strong finish, despite a few moments of anxiousness. Another had very high personal expectations and has trouble understanding without experiencing first. He's a good runner, but he got overwhelmed with just how fast the fast kids are. He's young, and the experience and exposure to the race was the goal with him. He did not complete the course, but he is now armed with the experience he needs to become better, gain more realistic expectations, goals, and develop some focus, and finish it next year! Another kid also has very high self-imposed expectations, anxiety, and had a tough go at it. The goal was to gain the experience and use it to start on a path to developing more positive thinking, and learn to work to make herself proud (not others) by pushing through and discover her strengths. She succeeded today because she started; she chose to continue on when presented with the ultimatum and decision of giving up and not finishing, or continuing and finishing; and she finished (with the sprint finish she set out to do!). Great work! You demonstrated great personal strengths - determination and persistence, now we work on flipping the switch on those negative thought patterns.
Everyone wants their kid to succeed and to not get upset, and wants to know they will be safe when out of sight. Every kid wants to succeed, make others proud, or meet the image they have in their head of how things are going to go. Growth doesn't come from everything going well and right all the time, or from not experiencing new things. It's tough to watch or go through, but you bounce back and become better because of it. Running is an amazing tool to develop so many qualities that can be applied to everything else in life.
There is a success story in every perceived failure. You have to learn to find it, then use it to move forward.
Mayor's Cup was a huge success for our team!
Congrats everyone